The darkest and largest knife SOG has produced to date - The Midnight Tigershark. Blackened and for
ged in the heart of SOG's
manufacturing plant in Seki, Japan, this knife was an exclusive production run for
the "Cutlery Shoppe" knife company in the late 80's, along with the '
Nite Tech
'. Its production ran side by side with the satin-finished Tigershark in SK-5 steel. It is identical in every aspect to the Tigershark SK-5 except that it us gun-blued. Under the gun-blue coating lies a satin-finish, which explains why the Midnight Tigershark does not have a shiny mirror surface like the
S1 Bowie
.

It instead has a blackened finish that has low reflectivity and increased resistance to the elements. This knife is a winner from SOG, but sadly it is not appreciated much till after it was discontinued. Not many large bowies are gun-blued, and the Midnight Tigershark is one of those rare ones with a "tool look".
It is
not
very easy to get one of these nowadays
-
quite a rare find since it was exclusive and produced in limited numbers. Most people would not have known about the SOG Midnight Tigershark if not for our SOG Collectors site. Having been discontinued for more than 12 years, it is highly prized among collectors. Even more difficult to find one that is Mint
in Box
(MIB). It
is also considered rare because it is not known whether it became a regular production model from SOG.
The Midnight Tigershark remains as one of the most sought after knives in the SOG knife series as well as the other Tigershark models.
Copyright © Notice: If you plan to use our information (eg. selling your knife on Ebay), please cite our website by saying "Information taken from:
http://www.sogknivescollectors.com
"
or mention our website.
Specifications:

Blade Length: 9 in. x .250 in.
Overall length: 14 in.
Blade steel: SK-5
Blade hardness: Rc.56-57
Blade finish: Gun-blued
Weight: 17.5 oz.
Edge: Straight
Carry System: Condura sheath/Leather sheath (later productions)
Handle Material: Black Kraton handle
Knife Type: Fixed Blade
Country of origin: Japan
Part #: -unknown-
Rarity Details:
Production dates:
1988 - 1994
Production numbers:
?
Limited run?:
Yes, only for Cutlery Shoppe.
Other things of interest:
Largest gun-blued fixed blade ever produced by SOG.
Rarity index:
9.5/10
(10 being the most rare)
Rarity index scale (1 to 10, 10 being the most rare):
3 - Has been around for at least 2 years and are selling reasonably well, with retailers favouring other newer models /ver this knife.
5 - Knives that are on the borderline of being discontinued or have been discontinued for less than 6 months
6 - Products from 6 onwards are either discontinued or limited edition.
7 - Discontinued knives that pop up once every few months on the "For Sale" part of forums or on ebay. Still can be found at a few online shops though.
8 - Knives that need lots of researching to find. Not available anymore in online knife shops and pop up (if you're lucky) >4 months for one at a time.
9 - Knives holding this rarity are the shadowy kind. You can't find any information on them at all (not even from online knife shops that have not taken down that knife's product page). If you see one for sale grab at all cost.
10 - The rarest of all knives. If you hadn't been here you wouldn't even have known that it existed. Should you have one of these you better lock it up in a triple-combination safe and treat it like a family heirloom...

Links to forums on this knife:
-

Cutlery Shoppe
---> The original guys who had an exclusive deal with SOG to sell the Midnight Tigershark and the 'Nite Tech'
Product Description:
The latest from SOG Specialty, made exclusively for Cutlery Shoppe.We took the highly acclaimed SOG Tigershark and made it even better. Our new Midnite Tiger features a gun-blued carbon steel blade, Rc 55-57, with a faceted reinforced tip and a special "rolled edge". The gun-blued carbon steel blade will resist corrosion and still retain the keen edge that quality carbon steel is known for. The
Midnite Tiger
also sports a full tang construction and an ergonomic Kraton handle for comfort and reliability. To top this off, we have included a custom black Condura sheath from famous sheathmaker and knife designer, Blackle Corrs. This condura sheath includes a thigh tie-down and a Bianchi belt Mil Spec belt fasterner to accommodate military pistol belts.
Midnight Tigershark in light Midnight Tigershark & sheath Right side of the knife 45 degrees downwards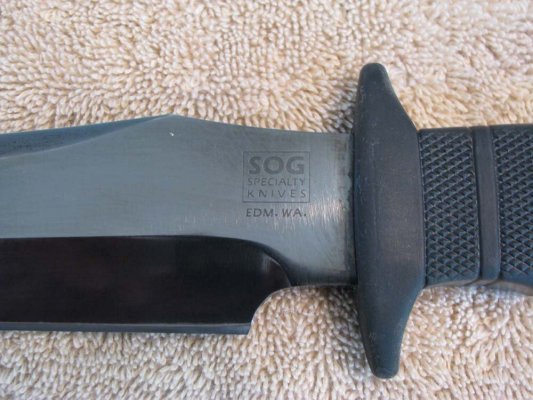 Midnight Tigershark horizontal The older SOG logo Forged in SOG's Japanese factory No fight between the two
SOGs
Midnight Tigershark & blades Business end - Midnight Tigershark Dwarfing a Swiss Army knife

Page last updated: Wednesday, July 11, 2012 05:29:14 PDT